The NCEA Miner's Picnic event on Tuesday 11th July was the culmination of a huge amount of work that both children and staff have completed in relation to the Y3 enquiry about mining and the local area. Children had worked extremely hard to learn all about the mining heritage of Ashington and the surrounding areas before getting the chance to engage in some fantastic workshops. Bill Elliot, a member of 'The Elliott's from Birtley', led a number of workshops across five of our primary schools to teach traditional mining songs such as: 'Just One Spark' and 'Jowl Jowl.'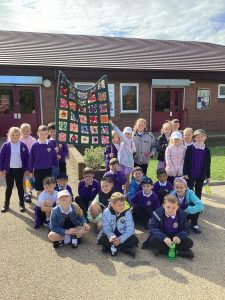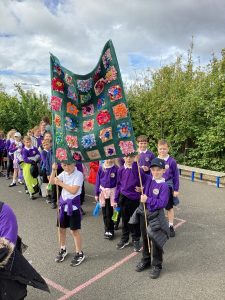 The children had a fantastic time learning the songs and a real highlight of the Miner's Picnic was seeing over 200 children all joining Bill in singing these songs together.
It definitely was a sight to behold and there were numerous members of the public who stopped by to watch the singing which sounded beautiful. In addition, children had the opportunity to learn the art of Proggy Mat making thanks to Justine Fox (Creative Remakery). Each school now has their own Proggy Mat banner which they were able to parade on the day. The banners will be shown around Ashington over the summer before being returned to schools to be displayed. The event could not have been such a success without the support of Sarah Bredin-Kemp from Hirst Park. Sarah supported the organisation of the event and was able to provide much needed funding to ensure the children were able to have all of these wonderful experiences.